Wedding days are hectic. Months, sometimes years... (or a lifetime) of planning comes together on this one special day. Long after the music stops and the lights go dim, those memories are kept alive in the photographs of your wedding. Months and years into the future, you can look back and remember the joy and anticipation, the laughter and love shared by family and friends.
Wraven Design captures all of the carefully-crafted details of your unique love story in a rich, glowing, fairytale style and preserves them for a lifetime.
Thank You & Happy Planning!
~Adriane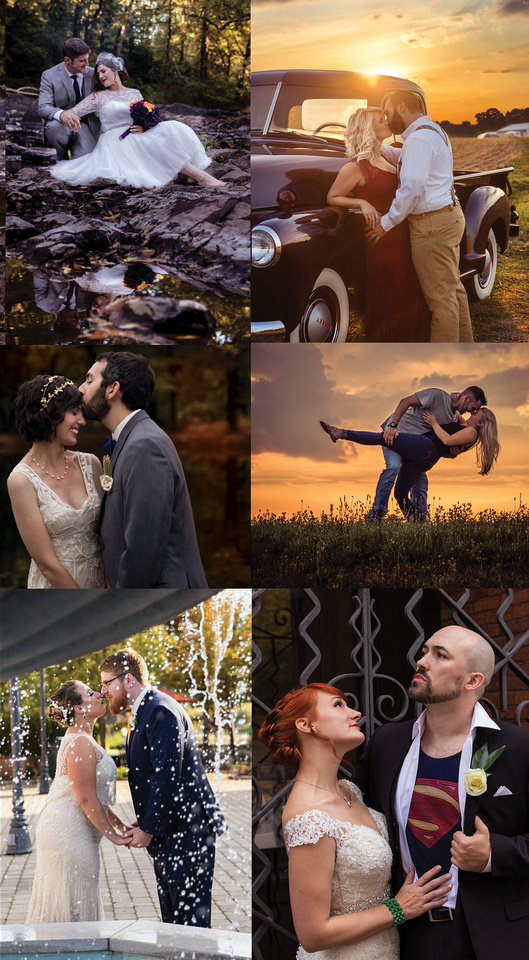 2018 & 2019 Wedding Pricing
Romantic Engagement: $300.00

Up to One Hour of Photography
One Location & Wardrobe selection
Online Image Gallery

Trash the Dress: $400.00
Up to 1.5 Hours of Photography
One Photographer
Online Image Gallery
High-Resolution Downloads

Epic Engagement: $400.00

Up to Two Hours of Photography
Up to Three Wardrobe Choices
Varied Sites at Larger Location
Online Image Gallery

Epic Bridal Session: $400.00
(Photoshoot, not wedding coverage)
Up to 1.5 Hours of Photography
One Photographer
Online Image Gallery
High-Resolution Downloads

Package One: $1,600.00

Romantic Engagement Session
Up to Four Hours of Coverage
One Photographer
Online Image Gallery
High-Resolution Downloads

Package Two: $2,000.00

Romantic Engagement Session
Up to Five Hours of Coverage
One Photographer
Online Image Gallery
High-Resolution Downloads
$200 Print Credit

Package Three: $2,600.00


Epic Engagement Session
Custom Save the Date Design
Complimentary 11x14" Engagement Print
Up to Six Hours of Coverage
Up to Two Photographers
Online Image Gallery
High-Resolution Downloads
Custom USB of High-Resolution Images
Complimentary 16x20" Wedding Print
$250 Additional Print Credit

Package Four: $3,000.00


Epic Engagement Session
Custom Save the Date Design
Complimentary 11x14" Engagement Print
Up to Seven Hours of Coverage
Up to Two Photographers
Online Image Gallery
High-Resolution Downloads
Custom USB of High-Resolution Images
Complimentary 16x20" Wedding Print
$300 Additional Print Credit
12x12" Hard Cover Wedding Album

Package Five: $3,500.00

Epic Engagement Session
Complimentary 11x14" Engagement Print
8x8" Engagement Album/Guestbook
Custom Save the Date Design
Up to Eight Hours of Coverage
Up to Two Photographers

Online Image Gallery
High-Resolution Downloads
Custom USB of High-Resolution Images
Complimentary 16x20" Wedding Canvas
$400 Additional Print Credit
12x12" Hard Cover Wedding Album

Destination Weddings Starting at $3,000.00*


Up to Eight Hours of Wedding Day Coverage

Epic Bridal/Day After Session or Trash the Dress Session

Personal Blog Post of Your Wedding Weekend

Online Image Gallery
High-Resolution Downloads
Custom USB of High-Resolution Images
Complimentary 16x20" Wedding Canvas
$400 Additional Print Credit
12x12" Hard Cover Wedding Album

*Custom Quotes Available

Additional Items

Epic Engagement Session Upgrade

$100.00


Additional Hour of Wedding Coverage

$200.00


Additional Photographer

$500.00


Epic Bridal or Trash the Dress Session with downloads

$400.00


Custom USB of High Res Images Upgrade

$100.00


12x12" Hard Cover Wedding Album

$400.00


8x8" Engagement Album/Guestbook

$100.00


*Prints, Canvases, Frames, Wall Mounts, Photo Gifts, Stationary items, etc may be purchased via client galleries. Pricing varies and is in addition to these totals*